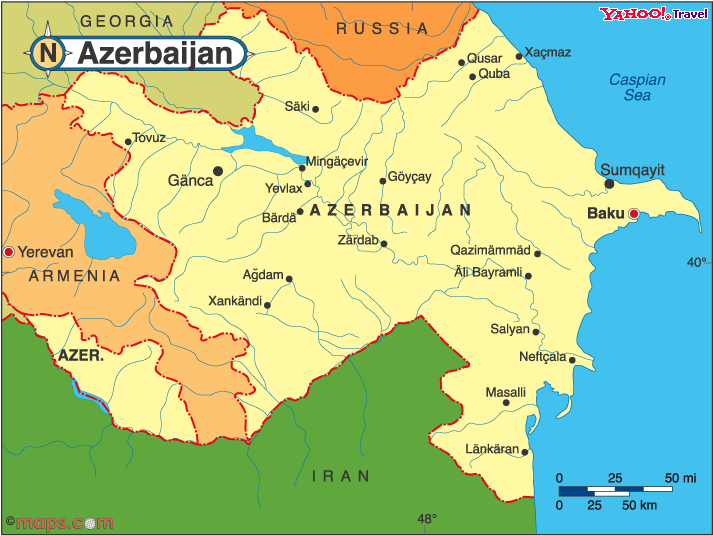 Oil-rich Azerbaijan gained independence from the Soviet Union in 1991 amid war and political turmoil. The south Caucasus country became a member of the Council of Europe in 2001 and is now struggling to build a democratic, law-governed and secular state.
In 1994 Azerbaijan signed a contract worth 7.4bn-dollars with a Western consortium led by British Petroleum, but few other sectors of the economy have benefited from the oil wealth so far. The deal expires in 2024.
LEADERS
Ilham Aliyev (born December 24, 1961) is the current President of Azerbaijan. The official results of the October 15, 2003 elections gave victory to Ilham Aliyev, it is claimed with 77.97% of the votes. He also functions as the head of the New Azerbaijan Party.
Azerbaijan Economy - overview, 2007
Azerbaijan's number one export is oil. Azerbaijan's oil production declined through 1997, but has registered an increase every year since. Negotiation of production-sharing arrangements (PSAs) with foreign firms, which have committed $60 billion to long-term oilfield development, should generate the funds needed to spur future industrial development. Oil production under the first of these PSAs, with the Azerbaijan International Operating Company, began in November 1997. A consortium of Western oil companies began pumping 1 million barrels a day from a large offshore field in early 2006, through a $4 billion pipeline it built from Baku to Turkey's Mediterranean port of Ceyhan. By 2010 revenues from this project will double the country's current GDP. Azerbaijan shares all the formidable problems of the former Soviet republics in making the transition from a command to a market economy, but its considerable energy resources brighten its long-term prospects. Baku has only recently begun making progress on economic reform, and old economic ties and structures are slowly being replaced. Several other obstacles impede Azerbaijan's economic progress: the need for stepped up foreign investment in the non-energy sector, the continuing conflict with Armenia over the Nagorno-Karabakh region, and the pervasive corruption. Trade with Russia and the other former Soviet republics is declining in importance, while trade is building with Turkey and the nations of Europe. Long-term prospects will depend on world oil prices, the location of new pipelines in the region, and Azerbaijan's ability to manage its oil wealth.
GDP (purchasing power parity) $59.71 billion (2006 est.)
GDP (official exchange rate) $14.25 billion (2006 est.)
GDP - real growth rate 34.5% (2006 est.)
GDP - per capita (PPP) $7,500 (2006 est.)
GDP - composition by sector
agriculture: 14.1%
industry: 45.7%
services: 40.2% (2002 est.)
Population below poverty line 49% (2002 est.)
Household income or consumption by percentage share lowest 10%: 2.8% highest 10%: 27.8% (1995)
Inflation rate (consumer prices) 8% (2006 est.)
Investment (gross fixed) 44.9% of GDP (2006 est.)
Labor force 5.191 million (2006 est.)
Labor force - by occupation agriculture: 41% industry: 7% services: 52% (2001)
Unemployment rate 1.2% official rate (2006 est.)
Distribution of family income - Gini index 36.5 (2001)
Budget revenues: $6.008 billion expenditures: $5.804 billion; including capital expenditures of $NA (2006 est.)
Public debt 10.4% of GDP (2006 est.)
Industries petroleum and natural gas, petroleum products, oilfield equipment; steel, iron ore; cement; chemicals and petrochemicals; textiles
Industrial production growth rate 50% (2006 est.)
Electricity - production 20.35 billion kWh (2004)
Electricity - consumption 20.57 billion kWh (2004)
Electricity - exports 510 million kWh (2004)
Electricity - imports 2.15 billion kWh (2004)
Oil - production 477,000 bbl/day (2005 est.)
Oil - consumption 120,000 bbl/day (2004 est.)
Oil - imports NA bbl/day
Oil - exports NA bbl/day
Oil - proved reserves 589 million bbl (1 January 2002)
Natural gas - production 5.01 billion cu m (2004 est.)
Natural gas - consumption 9.94 billion cu m (2004 est.)
Natural gas - exports 0 cu m (2004 est.)
Natural gas - imports 4.93 billion cu m (2004 est.)
Natural gas - proved reserves 849.5 billion cu m (1 January 2005 est.)
Current Account Balance $2.737 billion (2006 est.)
Agriculture - products cotton, grain, rice, grapes, fruit, vegetables, tea, tobacco; cattle, pigs, sheep, goats
Exports $12.51 billion f.o.b. (2006 est.)
Exports - commodities oil and gas 90%, machinery, cotton, foodstuffs
Exports - partners Italy 30.1%, France 11.7%, Czech Republic 10.1%, Germany 7.9%, US 7.7%, UK 4.4% (2006)
Imports $5.176 billion f.o.b. (2006 est.)
Imports - commodities machinery and equipment, oil products, foodstuffs, metals, chemicals
Imports - partners Russia 19.6%, UK 12.6%, Turkey 9.9%, Germany 8.7%, Singapore 6.2%, China 4.9% (2006)
Reserves of foreign exchange and gold $1.8 billion (2006 est.)
Debt - external $2.483 billion (2006 est.)
Economic aid - recipient ODA, $140 million (2000 est.)
Currency (code) Azerbaijani manat (AZM)
Exchange rates Azerbaijani manats per US dollar - 0.8934 (2006), 4,727.1 (2005), 4,913.48 (2004), 4,910.73 (2003), 4,860.82 (2002) note: on 1 January 2006 Azerbaijan revalued its currency, with 5,000 old manats equal to 1 new manat
Fiscal year calendar year
Economy of Azerbaijan in 2003
From "Azerbaijan Newsletter" published by The Embassy of the Republic of Azerbaijan www.azembassy.com Washington, D.C. – March 9, 2004
Year of 2003 reflected tangible growth in all sectors of the Azerbaijani economy. According to the official statistics by the Ministry of Economic Development of the Republic of Azerbaijan in 2003 Gross Domestic Product (GDP) grew up 11.2% and totaled $7.1 billion. GDP per capita grew up 10.3% and reached $879.7.
In 2003 industrial production grew up 4.3%, agriculture and forestry - 5.6%, construction - 61%, services - 8%. 53.4% of industrial output was produced by the private sector enterprises (52.7% in 2002), 46.6% - by public sector enterprises (47.3 % in 2002).
Remarkable economic growth was a result of the continued market-oriented reform process conducted by the Government of Azerbaijan aimed at liberalization of prices, tightening budgetary and fiscal controls to limit inflation, restructuring of banking sector and improving transparency, modernizing tax system, privatization of the state owned enterprises, promotion of foreign investment.
Energy sector continued to be one of the dynamic development areas attracting most of investment. Completion of financing documents related to the construction of Baku-Tbilisi-Ceyhan marked new era in developing of rich oil and gas deposits in Azerbaijani sector of Caspian Sea.
The aim of the Government is to manage growing revenue from oil and gas sector in a way that allows the diversification of economy and development of non-oil sector. In order to achieve this goal the Government continued to take necessary measures for improving legislation, avoiding mismanagement and ensuring further institutional building process.
Two major decrees have been recently issued by the President Ilham Aliyev of Azerbaijan regarding the measures for acceleration of social and economic development in the country. Information in Azerbaijan Newsletter is compiled from various sources
To foster economic activity in the regions of Azerbaijan, the Government established Entrepreneurship Council, Investment Promotion Fund, adopted State Program on development of Small and Medium Enterprises (SMEs).
Favorable investment climate continued to attract investors to Azerbaijan. Today Azerbaijan has the highest ratio of Foreign Direct Investment (FDI) per capita among countries with economy in transition.
In 2003 from various forms of ownership more than $3.6 billion was invested in economy of Azerbaijan (growth - 71%). Domestic investment totaled $705 million, foreign investment – $2.91 billion. Foreign investment grew up 84.2%, domestic investment - 32.6%. Currently there are 3,250 companies with foreign investment in Azerbaijan.
Growth of economy and increase in public revenues helps the Government to support development of private entrepreneurship (especially in the regions) and to ensure steady increase in the living standards of Azerbaijani population.
In 2003 budget receipts grew up 34.6%, budget expenditures - 32.4%. Budget deficit amounted 0.1 % of GDP. Financing by banks and non-bank organizations grew up to 27.4% (short-term loans totaled 74.5%, long-term loans - 25.5%). Private banks secured 47.4% of all loans.
In 2003 cash deposits of population in public and private banks grew up 57.9%. Nominal cash income of population grew up 14.1%.
As in the previous years, inflation in Azerbaijan did not exceeded 2%. In December 2003, exchange rate US Dollar/AZ Manat averaged: $1 = AZM 4920.3.